The Resilience & Grace online studio is a community and learning platform for students to come where they explore and transform their overall health and well-being and "feel good at any age!" As a member, you can access simple but potent practices to help you connect with your body, breath, mind, and heart – over and over again.
The online studio is a hub for students who are looking for weekly online yoga and fitness classes, special events, and retreats. It is a community where you can stay healthy and active and increase your health span gaining strength, flexibility, balance, and mobility. It is also a destination that can excite and inspire you with fresh and meaningful classes supporting your health and well-being as you age with resilience and grace on and off the mat.
Mary integrates ancient yogic wisdom with evidence-based science into each of her offerings creating holistic practices taught with attention to:
Safe, accessible, heart-opening postures
Meditations for brain health
Grounding and energizing breath practices
Creative sequences
The Benefits of a Membership
CONVENIENCE
We know time is precious. Purchasing a monthly membership helps make your life simple. With a subscription to the Resilience & Grace online studio, not only do you benefit from a single, neat payment, but you have one point of contact too – just one phone call or email when you need help.
CONTROL AND CHOICE (BUT NOT TOO MUCH CHOICE)
It is important for humans to feel like we have enough choice. But this can be a tricky balance to strike as we are also subject to "decision fatigue", where an abundance of options leaves us feeling overwhelmed and as though we have lost control.
Purchasing a membership will give you, the consumer, just the right number of options to choose from, plus the ability to control, stop, or restart your membership at all times. Once you join, you will remain in full control of your membership and have the ability to join livestream classes, access the OnDemand video library, mark your favorites, and search for the style of practice that meets your needs TODAY.
You could spend time searching for free yoga and fitness classes on YouTube saving yourself money, but is this how you want to spend your time? The Resilience & Grace membership has made this process easy for you. The classes offered are taught by a qualified, experienced instructor who will keep your workouts not only safe and accessible, but also fun and creative.
With over 350 classes to choose from, you can search and filter classes that fit your current needs. Mary offers a variety of class styles including mixed-level yoga, gentle yoga, chair yoga, yin/restorative yoga, and strength & balance fitness. You can search for a time that fits your schedule. Class length ranges from 20-90 minutes. The search function also allows you to filter class themes ranging from body parts to energy levels. Looking for a 20-minute class to help strengthen your back and leave you feeling grounded and calm? Add these key words into the search and your options appear making it easy for you to quickly select the workout you want to do when you want to do it!
SENSE OF COMMUNITY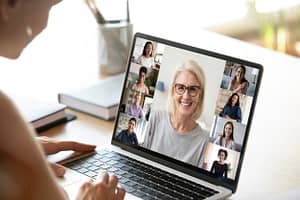 We all have a desire to belong and a basic need to connect with those around us. With a membership, you are selecting to be a part of something and share this experience with other members in the community.
When you join as a member, you are welcomed to the kula. This community supports and promotes a wholehearted lifestyle with resilience and grace. No matter what age, size, ability, or experience – all are welcome.
All members have access to the community page. This is a private internal platform inviting you to share information or questions with the group. It functions similarly to Facebook, but is private and off social media. You will get the support you need because we all know we cannot do it alone. You'll be surrounded by like-minded yogis struggling with the same or similar issues. We all do better when we are supported and accountable. Mary shares educational resources, upcoming special events, class reminders, and other blurbs of information creating a special community of curiosity, respect, compassion, and service to others.
FINANCIAL CHOICES
The Resilience & Grace membership offers two pricing tiers making it more financially accessible to students. You can choose to pay $65 or select the scholarship rate of $45 per month with a coupon code for the Resilience & Grace Membership for $30 per month if you are looking to access the library only. You can choose your pricing tier based on how you will use the online studio, what price point is sustainable, if others in your household will be using the membership, and if you have the means to support another community member.
We understand circumstances change. Members can move to a higher or lower pricing tier at any time and as often as needed. To change the monthly payment price, you can either contact Mary directly to have the membership manually changed or cancel your subscription and repurchase the membership of your choice at the new price tier. You can also contact Mary directly and ask for additional financial assistance as needed.
A MONTHLY MEMBERSHIP GIVES YOU:
Livestream class experiences and recordings
A comprehensive on-demand library of accessible yoga, fitness, and meditation classes.
Specially curated playlists
A variety of class time options (20-90 minutes)
Exclusive offerings, including a monthly community connection meet-up.
Access to Mary before and after every lifestream class to ask questions and receive feedback.
Access to the Community Page, a place to share and read information from other students in the kula.
Deep gratitude from Mary for supporting her work and offerings!
7-Day FREE Trial
The Resilience & Grace Membership is a place where you can go to explore and elevate your health and well-being journey. Please click on this link to watch a welcome video and explore my online studio.